B.Y.O.B. (Bring Your Own Bombs) is the second track on System of a Down's fourth album, Mezmerize, and the only track off of the album to reach the Top 30, reaching #27. The music and lyrics of the song were written by Daron Malakian.
The music video for B.Y.O.B., directed by Jake Nava, depicts an army of soldiers marching through the streets, wearing paintball masks displaying the words "DIE", "OBEY", "TRUTH", and "GOD", with the band playing in the middle of the soldiers.
During the chorus of the song, the performance goes from a street filled with soldiers to a night club.
Midway through the song, Daron is seen screaming "Blast off! It's party time! And we don't live in a fascist nation!" as the soldiers storm the night club, forcing the party-goers to wear the brain-washing paintball masks, which, instead of displaying words, show cartoons and television shows.
At the end of the video, the band members are seen wearing masks displaying static.
System of a Down won the "Best Hard Rock Performance" category in the 2006 Grammy Awards.
The track was the band's only Top 30 hit off Mezmerize peaking at #27.
It was voted #76 in Total Guitar's 100 Greatest Riffs ever.
It made onto numerous "Top 40" play lists around the globe, including Germany, New Zealand, Australia And the United States, and occasionally made it to #1 on other music shows.
It made #134 on the Y2KROQ Top 200 Songs of the Century.
During live performances of B.Y.O.B., Daron switches to a reggae-based riff, with Serj saying "Come on!" after "Everybody's going to the party, have a real good time".
10 days before Mezmerize was released, the band played B.Y.O.B. live on SNL. Where Daron normally performs a guitar slide, he instead screamed "Fuck yeah!". This improvisation was missed by the censors, causing much uproar for several days afterward.
When playing live at the MTV Europe Music Awards, the line "And we don't live in a fascist nation" was changed to "This ain't no bullshit political punk rock", a reference to MTV, which had categorized the group as "political punk rock" on an earlier review.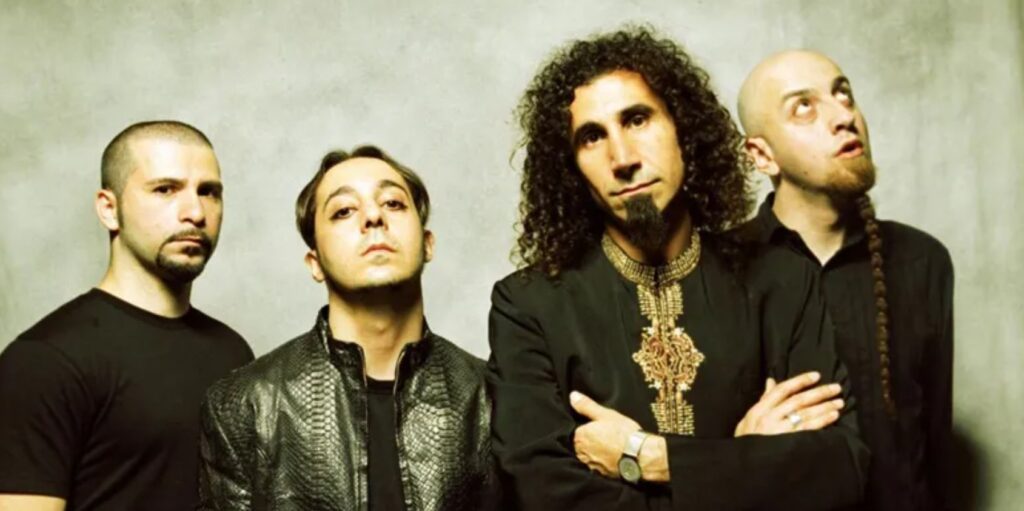 Lycris
You
Why do they always send the poor?
Barbarisms by Barbaras
With pointed heels
Victorious Victorias kneel
For brand new spanking deals
Marching forward, hypocritic
And hypnotic computers
You depend on our protection
Yet you feed us lies from the tablecloth
La-la-la-la-la-la-la-la-la-la, ooh
Everybody's going to the party
Have a real good time
Dancin' in the desert
Blowin' up the sunshine
Kneeling roses disappearing
Into Moses' dry mouth
Breaking into Fort Knox
Stealing our intentions
Hangers sitting, dripped in oil
Crying, "freedom"
Handed to obsoletion
Still you feed us lies from the tablecloth
La-la-la-la-la-la-la-la-la-la, ooh
Everybody's going to the party
Have a real good time
Dancin' in the desert
Blowing up the sunshine
Everybody's going to the party
Have a real good time
Dancin' in the desert
Blowin' up the sunshine
Blast off, it's party time
And we don't live in a fascist nation
Blast off, it's party time
And where the fuck are you?
Where the fuck are you?
Where the fuck are you?
Why don't presidents fight the war?
Why do they always send the poor?
Why don't presidents fight the war?
Why do they always send the poor?
Why do they always send the poor?
Why do they always send the poor?
Why do they always send the poor?
Kneeling roses disappearing
Into Moses' dry mouth
Breaking into Fort Knox
Stealing our intentions
Hangers sitting dripped in oil
Crying, "freedom"
Handed to obsoletion
Still you feed us lies from the tablecloth
La-la-la-la-la-la-la-la-la-la, ooh
Everybody's going to the party
Have a real good time
Dancin' in the desert
Blowing up the sunshine
Everybody's going to the party
Have a real good time
Dancin' in the desert
Blowin' up the sun
Where the fuck are you?
Where the fuck are you?
Why don't presidents fight the war?
Why do they always send the poor?
Why don't presidents fight the war?
Why do they always send the poor?
Why do they always send the poor?
Why do they always send the poor?
Why do they always send the poor?
Why do they always send the poor?
Why do they always send the poor?
They always send the poor
They always send the poor