Metal Music
Slayer, Raining Blood Live – Listen To That Double Bass Dave Is A God
"Raining Blood" is a song by the American thrash metal band Slayer. Written by Jeff Hanneman and Kerry King for the 1986 studio album Reign in Blood, the song's religious concept is about overthrowing Heaven.
The song is four minutes and fourteen seconds in duration. It ends with a minute of rain sound effects. Described as a "classic" by Allmusic,[3] it is noted by fans as one of Slayer's most popular songs. As an almost permanent addition to their live sets, both Hanneman and King acknowledged it as their favorite song to play live. Many of Slayer's live performances of the song have been captured on the band's live albums and also multi-band compilation albums including MTV2 Headbangers Ball.
There have been many appearances of the song in the media and elsewhere, including the South Park episode "Die Hippie, Die", and the video games Grand Theft Auto: Vice City and Guitar Hero III: Legends of Rock, where it is considered difficult to play.
Writing and Concept
"Raining Blood" was written by Jeff Hanneman and Kerry King.D. X. Ferris said that "when Hanneman wrote the song, he envisioned a scene from a dark street or bloody back alley", and later went on to say that the song "described a banished soul awakened and hungry for vengeance." The second verse was written by King, who "pick[ed] up on Hanneman's title and in his new direction". The song, along with the rest of Reign in Blood, was recorded in 1986 in Los Angeles, California, with producer Rick Rubin.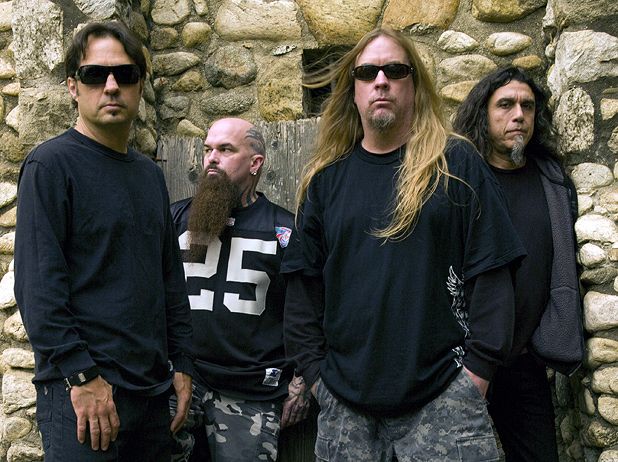 Hanneman explained that "it's about a guy who's in Purgatory 'cause he was cast out of Heaven. He's waiting for revenge and wants to fuck that place up." King later said that "the rest of the song explains what happens when he starts fucking people up. The lyrics 'Return to power draws near' is because he's waiting to get strong enough again to overthrow Heaven. And then 'Fall into me, the sky's crimson tears' is everybody's blood flowing into him. So basically, 'Raining Blood' is all the angels' blood falling on him."
Composition
"Raining Blood" is four minutes and seventeen seconds long, and is Reign in Blood's closing track. The song is one of three songs from the album that exceeds three minutes in length. Steve Huey from Allmusic proposed that "Reign in Blood opens and closes with slightly longer tracks (the classics 'Angel of Death' and 'Raining Blood') whose slower riffs offer most of the album's few hints of melody."[3] The song's music was written solely by guitarist Hanneman (who was also a primary writer of the song's lyrics), who presented both hostility and anger in his writing. Huey also noted that "the riffs are built on atonal chromaticism that sounds as sickening as the graphic violence depicted in many of the lyrics", and said that it was "monstrously" and "terrifyingly evocative".
Clay Jarvis from Stylus Magazine wrote that the song possessed "a red-herring, scorched-earth intro, eerie thunderstorm-and-tom-tom-triplet interlude and one of the most recognizable riffs in metal history. It is a dynamic, explosive and fitting end to a remarkable, violent experience." D. X. Ferris, author of the 33⅓ book Reign In Blood, wrote that the song "lunges to life with its core riff, the ten most recognizable notes in metal, a diminished-scale run down the fretboard that's the most badass guitar riff since Black Sabbath's 'Sweet Leaf'."[1] Guitarist Kerry King said that "The intro is big with the two harmony and then the first beat that Dave [Lombardo] does, that double-kick thing, and it's like this backwards gallop that gets the crowd going wherever you are." The piece ends with a full minute of "rain sound effects," closing Reign in Blood.