Interesting
Principal who hosted Bush as 9/11 unfolded was York native, said president's 'behavior was commendable' in tragedy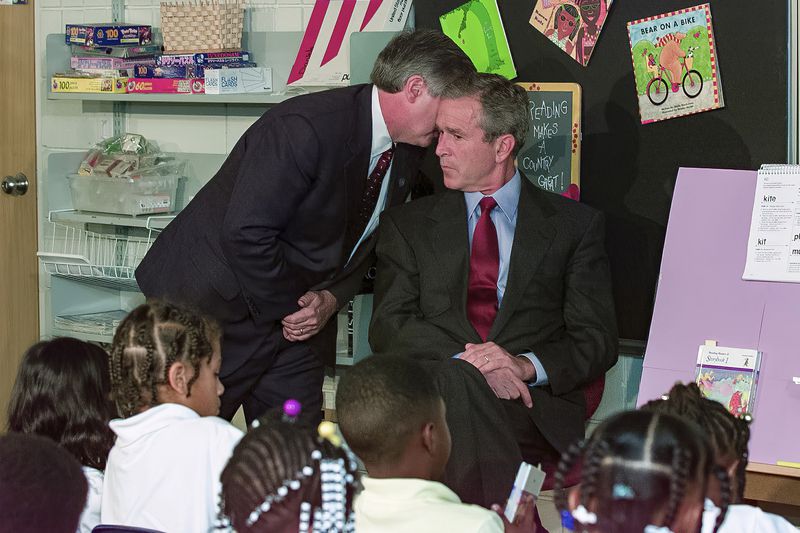 The image of President George W. Bush learning that a second plane had crashed into the twin towers at the World Trade Center in New York as chief of staff Andrew Card whispered the news into his right ear, is one of the most iconic and debated of 9/11.
Seated in a chair in the second-grade classroom at Emma E. Booker School in Sarasota, Florida, listening to 7-year-olds read from "The Pet Goat," Bush reacted to the news stoically. For the next seven minutes, he listened to and engaged with the students before apologizing to his host and taking leave to deal with the terrorist attacks.
Many, most famously director Michael Moore in the motion picture "Fahrenheit 9/11," saw Bush's delay in reacting to the news as indecisiveness. But his host, Emma E. Booker principal Gwendolyn Tose'-Rigell, standing just a few feet away from the president, saw something different.
"I am not a Republican but from where I stood, his behavior was commendable," said Tose'-Rigell, a York High graduate and former James Blair Middle School assistant principal who died in 2007 after a second bout with cancer. "What impressed me most was the president sat, addressed the children, and moved on to address the nation.
"He didn't listen to Andrew Card's words, then jump up and knock over a chair trying to get out of the room."
Tose'-Rigell expressed those sentiments in "The 9/11 Principal," based on her recollections three years after the events of Sept. 11, 2001. The 33-page book — available on Amazon and Google Books — was published in 2019 by her son, Stevenson Rigell.
Rigell was 10 and a fifth-grader at "The Emma" — the name everyone in the impoverished neighborhood in Sarasota called the school — at the time of Bush's visit. He was one of 200 in the Media Center, where Bush addressed the nation for the first time about the terrorist attacks after leaving Kay Daniel's classroom.
"Once he announced that the towers had been hit, I remember a slew of lights started flashing from the press across the back of the wall," Rigell said this week. "It was an intense moment.
"I remember all the teachers next to me gasping and saying, 'Oh my God, we're under attack.' After that, we went back to our classroom and turned the TV on, and that's when we got to see what was really happening and gravity of what was going on in New York and elsewhere in the northeast."
The attacks that stunned the nation and changed history deflated those in attendance. Bush came to Emma E. Booker to promote No Child Left Behind, his education reform program to boost underprivileged communities.
"There was definitely a huge excitement and joy across campus and in the community about the visit by the president," Rigell said. "People were shocked that, out of all the places Bush could be, Bush was at Emma E. Booker in what I thought was little-old-Sarasota at the time."
No one was more shocked than Tose'-Rigell. As she fielded a call that summer from a White House operative that Bush might be coming, she thought at first it was a prank.
When the visit was confirmed in August 2001, Tose'-Rigell wanted to tell everyone, but was sworn to silence for security reasons. She likened that to a woman receiving a five-carat diamond from a married man.
"You can take it out of the box when no one is around, even slip it on your finger," Tose'-Rigell wrote. "Sharing it with people you know and love, however, is out of the question."
So, for weeks she deflected questions from students about the "men in black," those who reconfigured the Media Center for Bush to speak and set up security in advance. Stevenson Rigell says Kay Daniel's class of second-graders the president visited, a group of 16 who had dramatically increased their test scores, were typical of the improvement among students at his mom's school.
"She was an education professional for 30 years and education was her passion," said Stevenson Rigell, who is 30 now, and pursuing a career in real estate. "I would say she's a leader in all aspects of the word.
"She cared about everyone's situation, had the best intentions for everyone and raised me to be a gentleman."
Tose'-Rigell felt the president's visit to the school was perhaps God's reward to her for surviving cancer. She understood, following the tragedy of the day, the lasting affect 9/11 would have on her school and beyond.
She prayed it was for the better.
"Our school will never be the same, as our country will never be the same, and, as a people, I hope to God we will change," she wrote. "This is our chance. Let us seize the opportunity.
"Let us return to the foundation, the very roots and principles this country was founded under."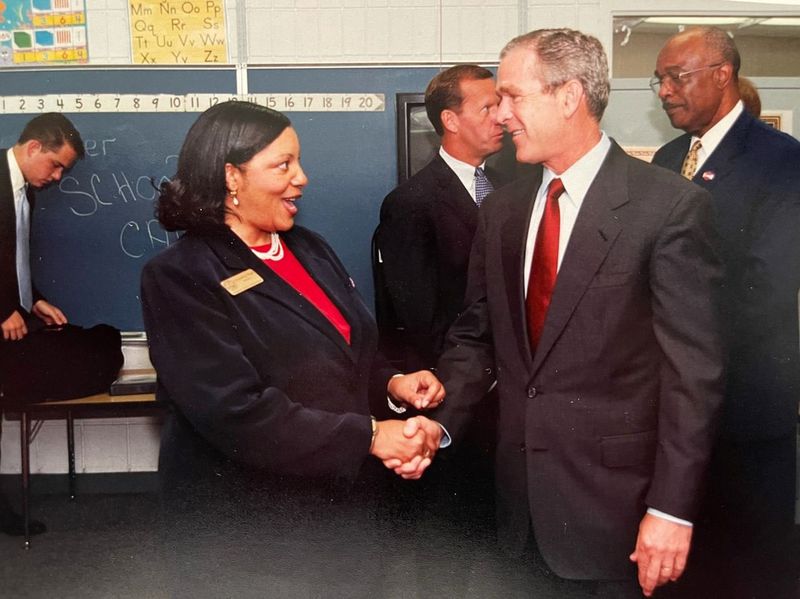 President George W. Bush was in the second-grade classroom with principal Gwendolyn Tose'-Rigell at Emma E. Booker School in Sarasota, Fla. on Sept. 11, 2011. He had to leave to deal with the terrorist attacks. 
(Courtesy of Stevenson Tose'-Rigell)