Metal Music
Metallica Fade to Black in real HD !!!! awesome !!!!
Awesome, Metallica`s performence of fade to black in HD quality ! One of the best Videos in Sound an visual quality !!
Life, it seems, will fade away
Drifting further every day
Getting lost within myself
Nothing matters, no one else
Fade to Black is a song by thrash metal band Metallica from their second album, Ride the Lightning (1984). It was written by Kirk Hammett, James Hetfield, Cliff Burton, and Lars Ulrich.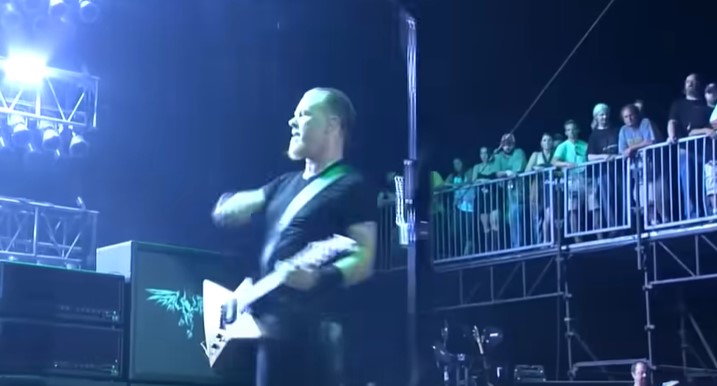 The lyrics suggest the story of a man contemplating, and eventually committing suicide. It was the first musical ballad released by the band.
In an interview on the set of the production MTV Icon: Metallica in 2003, drummer Lars Ulrich recalls how he and vocalist/rhythm guitarist James Hetfield were "obsessed with death" at the time the album and song were produced. Hetfield later admitted that a break-in to their gear truck resulting in the loss of his favourite Marshall amplifier also contributed to the mood of the song.
The song's lyrics address suicidal feelings. It begins with an acoustic guitar introduction and becomes progressively heavier as the song goes on, similar to their future songs, "Welcome Home (Sanitarium)", "One", and "The Day That Never Comes". James Hetfield commented on the song in a 1991 interview with Guitar World:
That song was a big step for us. It was pretty much our first ballad, so we knew it would freak people out… Recording that song, I learned how frustrating acoustic guitar can be. You could hear every squeak, so I had to be careful. I wrote the song at a friend's house in New Jersey. I was pretty depressed at the time because our gear had just been stolen, and we had been thrown out of our manager's house for breaking shit and drinking his liquor cabinet dry. It's a suicide song, and we got a lot of flak for it, as if kids were killing themselves because of the song. But we also got hundreds of letters from kids telling us how they related to the song and that it made them feel better.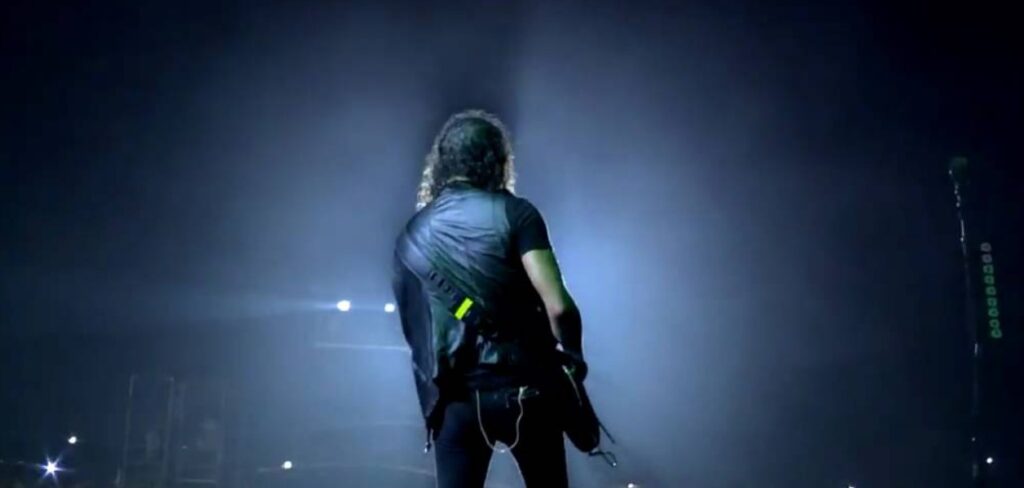 Since its release, "Fade to Black" has been a fixture in Metallica's live performances. It was also the last song that Metallica performed live with former bassist Jason Newsted before he left the band, of which occurred at the VH1 Music Awards on November 30, 2000. It was one of his favorite Metallica songs, and was said to be of great sentimental value to him, although it had been written before he had joined the band. His previous band, Flotsam and Jetsam, performed a song called "Fade to Black" on their 1986 album Doomsday for the Deceiver before he left to join Metallica.
While on the Guns N' Roses/Metallica Stadium Tour on August 8, 1992, Hetfield accidentally stepped into the path of one of the chemical flames that had been rigged to shoot from the lip of the stage while playing "Fade to Black". Hetfield's guitar protected him from the full force of the blast; however, the fire engulfed most of his left side, burning his hand, both arms, eyebrows, face and hair. He suffered second and third-degree burns, but was back on stage 17 days later, although his guitar duties were delegated to former guitar tech and Metal Church guitarist John Marshall for four weeks while he made a full recovery.
"Fade to Black" was the last song to be played on the Los Angeles heavy metal radio station KNAC, which went off the air on February 15, 1995. It would later sign off fellow longtime rock stations 94 WYSP in Philadelphia on September 2, 2011, and Power 97 in Winnipeg on January 29, 2015.
Watch the video below :