Metal Music
Dave Gahan – "Nothing Else Matters" from The Metallica Blacklist
Dave's voice is captivating and unique. No matter what song he sings, he does it great.
Nothing Else Matters is a power ballad by heavy metal band Metallica. The song reached #11 on the Billboard Mainstream Rock Tracks chart in 1992. This song also featured as a playable track on the game Guitar Hero: Metallica.
Singer and rhythm guitarist James Hetfield wrote this song while on the phone with his then girlfriend. Since he held the phone with one hand, he plucked the four open strings with the other, which eventually made up the first two bars of the song. The lyrics were also dedicated to his girlfriend, which talk about being "so close, no matter how far", indicating the bond they shared even when Hetfield was on tour. Initially, the song wasn't meant to go on the album, and Hetfield had written it for himself, but only after drummer Lars Ulrich heard it, did it get considered for the record.
The song has now become a staple in Metallica's live performances, and has been dedicated to their fans.
Its intro is an E minor arpeggio beginning with E on the D string, open G, B and high E strings. It was first rumoured, and then confirmed by Hetfield on Classic Albums: The Black Album DVD, that he started composing it while he was on the phone with his girlfriend and only had one free hand.
It is one of the few Metallica songs in which Hetfield, rather than Hammett, plays the guitar solo. Given that Hetfield recorded all rhythm and most harmony tracks on the band's first five albums, it is therefore the only Metallica song that does not feature Hammett's playing (excluding Cliff Burton's bass solo "(Anesthesia) Pulling Teeth"). In response to a question asked by a fan in So What!, the magazine of Metallica's official fan club, Hetfield confirmed that he recorded every guitar track on the song.
Dave's Take
"The song itself was iconic for Metallica and Metallica fans…And the thing about it is that it's an unusual song for them. When you dig deep into the song, which I did, it's a very intimate, personal song. It's not your usual sing-along, 'let's rock' type song either; I wanted to pull that out of it. I wanted to go down a very sort of cinematic sort of approach with it. It was in the middle of COVID I was asked to do this; I hadn't been doing anything, I didn't want to do anything, and I started listening to this record again. And this song was the one that kept leaping out to me, and I was lucky enough to get the chance to do it. So yeah, I wanted to turn it on its head, and I wanted it to become a much more intimate, one-on-one, stuck in a box type of feeling. But at the same time, to have a kind of cinematic backdrop."1
"My first thought though with it was that, okay, I've got to do something very, very different. You know, I can sing balls out, I could do that if I wanted. But it hit me pretty quickly that I had to do something quite different if I was going to do this. It took me a little while, and then I suddenly clicked one day, put the guitar down, and I started singing in a [certain] way. I had this little Fender PA system where I usually warm up my voice, and I started getting closer and closer to the mic, I wanted to really hear the words as if I was talking to somebody, but singing at the same time, and honoring that melody that's in the song. I was lucky we went down that road where I wanted to do the total opposite, really, of what Metallica were doing with it, but pay great respect and compliment to the song."1
Here is what social media said :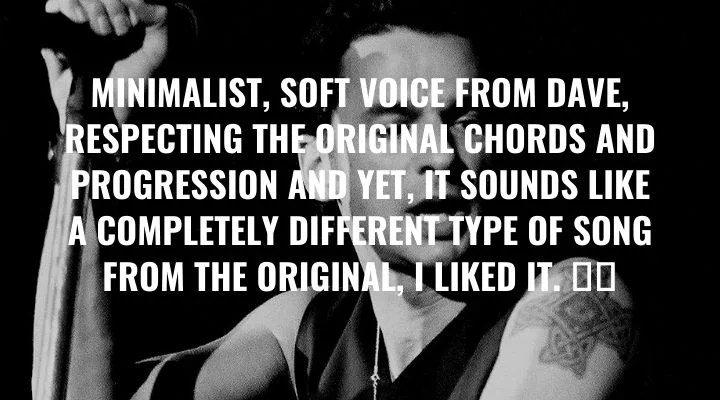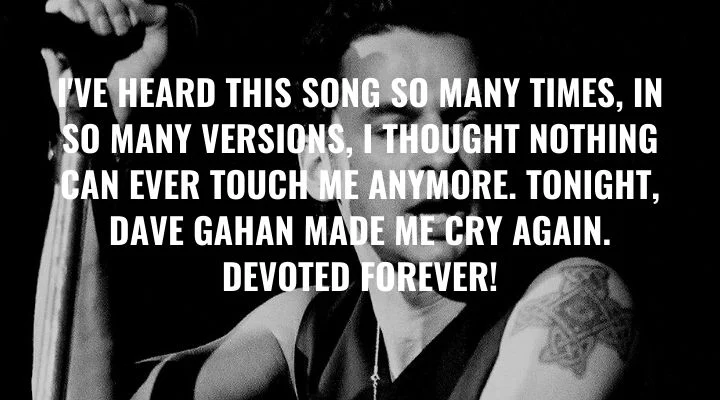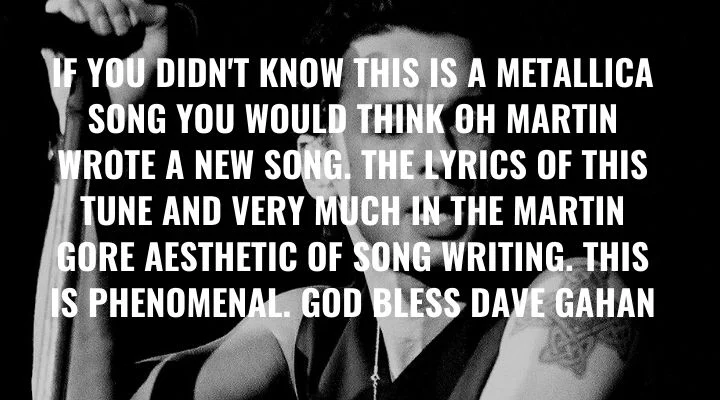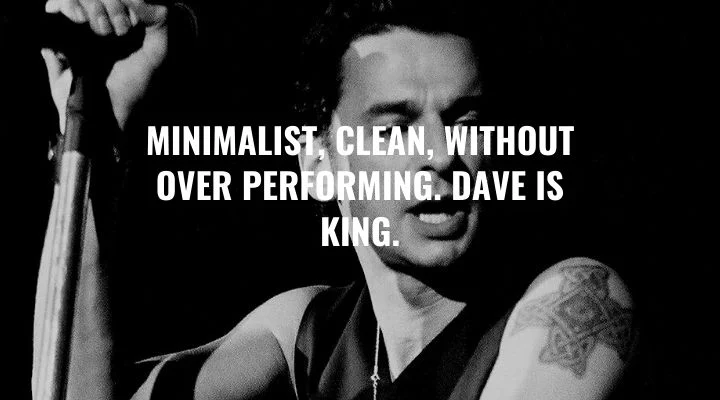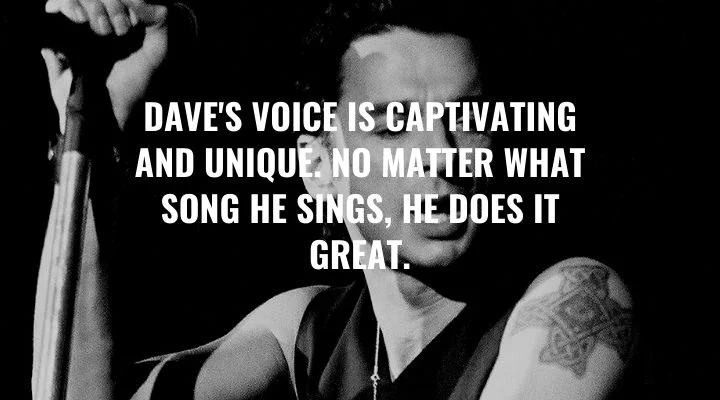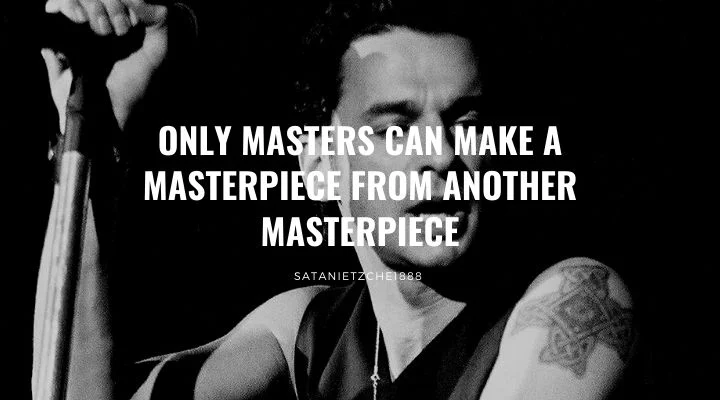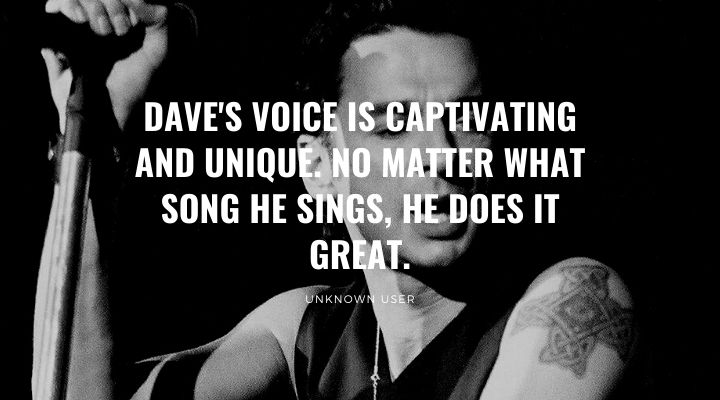 Lyrics
So close, no matter how far
Couldn't be much more from the heart
Forever trusting who we are
And nothing else matters
Never opened myself this way
Life is ours, we live it our way
All these words, I don't just say
And nothing else matters
Trust I seek and I find in you
Every day for us something new
Open mind for a different view
And nothing else matters
Never cared for what they do
Never cared for what they know
But I know
So close, no matter how far
It couldn't be much more from the heart
Forever trusting who we are
And nothing else matters
Never cared for what they do
Never cared for what they know
But I know
I never opened myself this way
Life is ours, we live it our way
All these words, I don't just say
And nothing else matters
Trust I seek and I find in you
Every day for us something new
Open mind for a different view
And nothing else matters
Never cared for what they say
Never cared for games they play
Never cared for what they do
Never cared for what they know
And I know, yeah, yeah
So close, no matter how far
Couldn't be much more from the heart
Forever trusting who we are
No, nothing else matters